Bed Frames made of Paulownia wood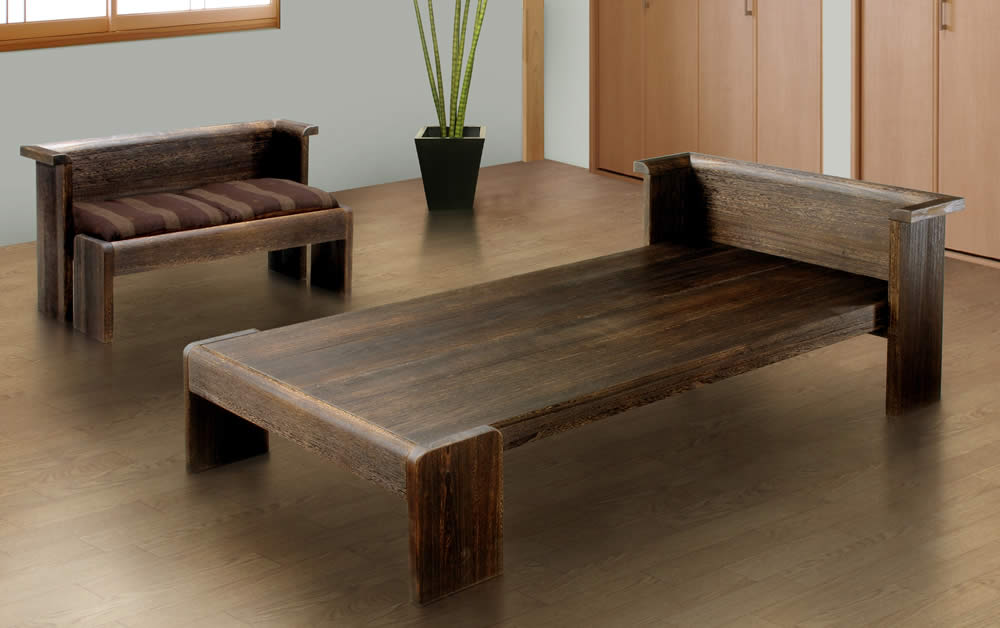 For your deep and restful sleep.
We've pursued a bed that makes the best use of the characteristics of Paulownia wood.
For your deep and restful sleep.
Real materials and real technology invite you to such a comfortable sleep.
Why Paulownia wooden bed – there is one simple reason, "YOMO-KIRIZAI (a material made of Paulownia wood and wool and special synthetic fiber)".
YOMO-KIRIZAI contains Thermo-wool in the center of Paulownia wooden floor-boards, and gives this bed advantages such as good air permeability/thermal insulation abilities and also can be proof against dew condensation, mildew and House Dust Mites.
A synergistic effect of the characteristics of Paulownia wood and the performance of the  Thermo-wool invites you to a comfortable sleep, wrapping your body gently.
YOMO-KIRIZAI(Patent pending) is an original product of Kiri-Koubou.
What is YOMO-KIRIZAI ?
We can obtain a high heat insulating effect and humidifying effect by wrapping  "Thermo-wool" in "Paulownia wooden material".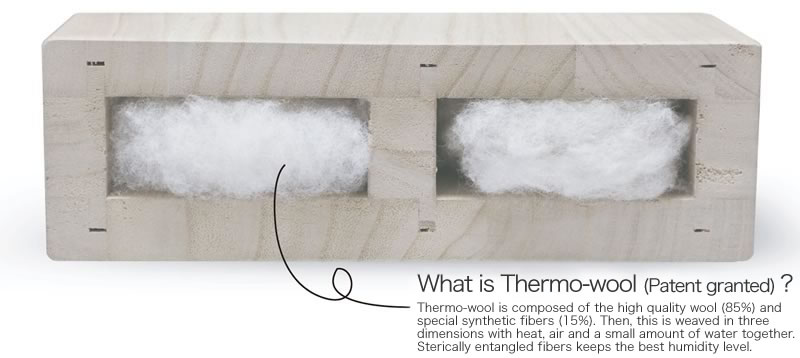 ■ Prevention of dew condensation in advanced thermal insulation effect
By overlapping Paulownia wood and wool, storing the air respectively, thermal insulation effect is increased. Moreover, as it does not block the flow of air, we can further increase the effect of preventing dew condensation.
(the YOMO-KIRIZAI's temperature hardly never changes throughout the year.)
■ Adjusting humidity
– a sponge-like fiber structure of Paulownia wood
– Thermo-wool (see above)
■ Removing VOC (Volatile Organic Compounds) in your home efficiently
Due to a nature of the Thermo-wool and a breathability of Paulownia wood, it is possible to absorb more than 90% Formaldehyde being in the room in about one hour.
Moreover, once the YOMO-KIRIZAI absorb Formaldehyde, will not let go of it.
■ Friendly and safe material for your body
Having a pleasant feel… warm in winter, and cool in summer.
The YOMO-KIRIZAI is also helpful to relieve the symptoms of atopy and asthma.
■ Protection against House Dust Mites and insects
The Thermo-wool, as it has the property that tries to keep the humidity constant at 50%, make the natural environment in which House Dust Mites and insects can not get close. There is also the effect of preventing the occurrence of mold.
■ Promotive Effects of Far-Infrared Ray
Paulownia wood emits more Far-Infrared Ray than ceramic. This Far-Infrared Ray stimulates the internal Thermo-wool.
As this bed is made with tusk tenon joints, called a KUSABI method, we do not use any metal inside. It can be used with confidence by some people such as metal allergy.
Looking for a bed that fits TATAMI?
Looking for a Japanese styel bed?
This bed is suitable for being placed on the top of TATAMI-mat.
Contact Us >> info@kirikoubou.com